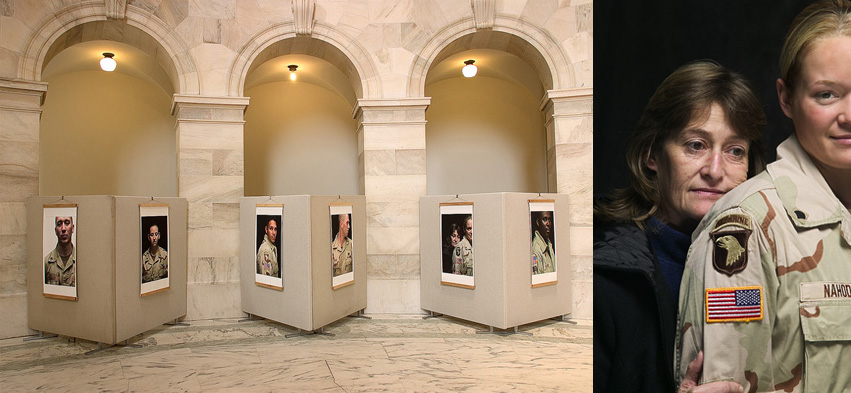 Faces of Heroes
Some of the men and women fighting America's war in Iraq get a two-week vacation from battle. They visit family, eat great meals, drink a few beers, but in the end they have to return--a war awaits them.
After reading a newspaper article about these honor-bound soldiers flying back to Iraq from nearby Baltimore/Washington International Airport, photographer Scott Robinson was intrigued with the idea of documenting these unknown, unnamed American heroes as they quietly shipped out.
"There were no obstacles – everyone from the Army Public Affairs office to the airport facilities people wanted to help," said Scott. So in late 2003, in a corner of the airport terminal, he set up a simple white seamless sheet and a few light stands. He invited soldiers to step in front of his camera for a quick portrait before they boarded their plane for the Middle East.
The stark, minimalist images that Scott created are arresting, even haunting. The faces of these heroes—faces mostly young, but also old, faces black and white and just about every shade in between—make real these soldiers' sacrifice.
U.S. Senator Warner (R-VA), Chairman of the Senate Armed Services Committee, was so taken with the photos that he sponsored a weeklong public exhibition of them in the US Capitol Complex. The images were printed two feet by three feet and many were larger than life size. Defense contractor Lockheed Martin underwrote the event.
Check out the portfolio www.facesofheroes.com
---

Faces of NASCAR
Faces of NASCAR is 200-page coffee table book published by Motorbooks International that showcases the people that make up the legendary stock-car racing industry – from the drivers and their families, to the mechanics, to the all-important fans. The book was borne, literally, from a bike crash. Photographer Scott Robinson, returning from a training ride for a 100-mile bike race, was launched over his handlebars at full-speed. A concussion, broken collar bone, and bruised ribs wiped everything from the busy freelance photographer's schedule for the next 12 weeks, except physical therapy and doctors' appointments.
"I had four months of hard-core nothingness and I really wanted something to come from this enforced work gap." He couldn't even hold his camera until his collarbone healed, so he used his inner eye to visualize shots. He had just finished a project taking starkly personal portraits of soldiers returning to the battlefields of Iraq after brief furloughs at home. He wanted his next project to continue to explore a similar sense of purpose and pride. As he thought about the big time sports he had covered, World Series, Super Bowls, NBA Finals, he realized that NASCAR races routinely sold 100,000 tickets for their races, and he wanted to find out what made the fans so passionate and committed.
Few projects get green lighted by NASCAR, but based on the strength of Scott's Faces of Hero's portraits, NASCAR gave him the go-ahead to compile a book. With collarbone intact, Scott immersed himself for 6 months in the NASCAR NEXTEL Cup Series. The result, is a stunning pictorial tribute to all the people – the drivers and their families, but also the pit crew, food vendors, track personnel, and of course the die-hard fans – all of whom make up the backbone of the sport. Scott expanded his writing skills to include insightful essays that tell the stories of some of the people who live the sport.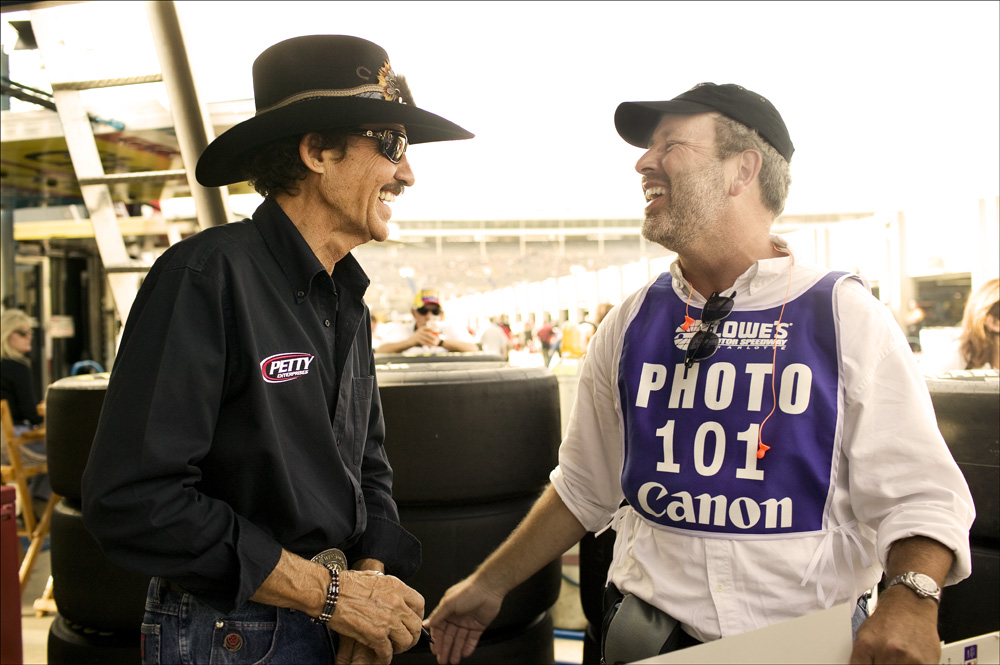 Richard Petty shares a laugh with Scott Robinson after the "King" signed a couple of prints of Scott's photo of the his famous belt buckle.

See what people are saying about Faces of NASCAR:

"Not every picture is worth a thousand words; some are worth much more. Scott Robinson has created the photographic 'War and Peace' of stock car racing, an epic visual tribute to NASCAR,"
~ Dave Despain-host of SPEED's "Wind Tunnel" and "Inside NEXTEL Cup."

"If you look closely at the pictures Scott has taken, it's easy to see why NASCAR is the No. 1 motorsports organization in the world. The passion on everyone's face (drivers, crewmembers, and fans) is evident.
~ Benny Parsons-1973 NASCAR NEXTEL Cup champion and former NBC/TNT racing analyst

"It isn't everyday that you get the opportunity to look into the lives of those in NASCAR the way this book has. It really gives you the opportunity to get up close and personal with those of us involved in the sport. "
~ Scott Wimmer -Nextel Cup driver

"Finally, a true picture of what our NASCAR family is all about from one end of the spectrum to the other! To me it really shows the 'family aspect' of our sport, the power of our fans and the bonds they have in relationship to their favorite drivers, and the diverse group of people that make NASCAR what it is today. It is an honor to be a part of this, as not only a race car driver, but also as a NASCAR fan!"
~ David Green-1994 Busch Grand National champion